YOU CHOOSE A PRODUCT –

AND GET ALL THE EXPERIENCE OF TER CHEMICALS
Are you looking for specialty chemicals and food additives? We can supply them. In guaranteed quality, at stable prices, packed appropriately for transportation and delivered punctually. Do you need advice on choosing chemicals and/or raw materials or on the product formula? We are there for you. You can find our solutions for the relevant product area by clicking on the corresponding symbol.
Plastic
Utilize the potential
Plastic
Utilize the potential
The world of polyester, PVC, polyamides, polyolefins etc. has been home turf for TER Chemicals for decades. We offer a broad range of additives and products for all areas of plastics processing perfectly tailored to one another, including flame and UV protective substances, dyes and modifiers to increase impact strength. These make plastics the materials we are familiar with in everyday life – and significantly boost the quality and safety of the products made from them.
Contact Person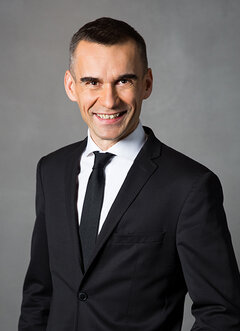 AndrzejSarzyński
Technical Sales Manager Adhesives, Plastics, Rubber
Additives
Oils
Colorants
Resins
Polymers
Waxes
Fillers
Binders
Polyvinyl alcohol
F.A.Q.
Additives or fillers used in the manufacture of plastic products are generally divided into the following categories:

Plasticizers
Heat stabilizers
Antioxidants
Light stabilizers
Reinforcements
Flame retardants
Colorants
Fillers*

Phthalate plasticizers, such as dioctyl phthalate (DOP), were commonly used until just a few years ago. However, because these substances have been shown to be harmful to humans and the environment, the European chemical industry has largely replaced them with more eco-friendly alternatives, such as the non-phthalate plasticizer diethyl hexyl cyclohexane (DEHCH).

Antioxidants are fillers that prevent discoloration of plastic as well as breaking of polymer chains. On the other hand, light stabilizers protect plastics against damage caused by ultraviolet (UV) radiation. They work by either reflecting or absorbing UV light emitted by the sun.

Heat stabilizers stop a polymer's molecular structure from being destroyed through heat exposure, hence helping PVC and other polymeric materials maintain their mechanical integrity. Reinforcements are fillers used to improve a polymer's mechanical properties, such as elasticity or flexural strength.

Flame retardants inhibit the release of toxic or caustic gases, like hydrogen cyanide, hydrogen chloride, carbon monoxide or dioxins, in the event that a polymer catches fire.

Colorants are divided into dyes and pigments. They are useful because PVC and many other polymers are colorless in their original form. Strictly speaking, only dyes can be considered fillers or additives, as they can dissolve in polymers and form bonds inside the material or get adsorb to the surface. In contrast, pigments are insoluble and only used for adding color to the surface.

*Fillers are also more accurately known as extenders. They help reduce the cost of plastic production. Nevertheless, many fillers can also improve the mechanical properties of products.
As their name suggests, plastic additives are substances added during plastic processing. They permeate polymers on a molecular level and help optimize the chemical, physical or even electrical properties of a material. Additives are essential for turning plastics into usable materials.

Additives made by TER Chemicals can modify polymers to suit their specific application. Depending on their place of use and processing, plastics may need to be protected against sunlight, heat, fire, rain or other weather conditions.

Applications of plastics can be found both indoors and outdoors. For instance, they are used as construction materials or turned into signage or furniture. Polymers are also processed into plastic bags, food packaging, bottles and many other products.

Materials sometimes need protection against the weather, and other times against heat, fire, oxidation or UV radiation. TER Chemicals offers a wide range of the non-phthalate DEHCH (short for diethyl hexyl cyclohexane), including flame retardants, rubber additives and UV stabilizers.

It is crucial to also consider what is required of plastics in terms of their ability to be machined in processing. For example, modifiers are able to enhance the impact resistance of a plastic material, while stabilizers help optimize a material's properties related to resistance and durability.

Plasticizers are added to make plastic more flexible and easier to process, giving rise to a material that is softer and less brittle.

And last but not least, TER Chemicals also supplies a wide range of plastic colorants. They include dyes as well as pigments in black, white (titanium dioxide) and other colors.
TER Chemicals is your partner for all things related to the plastics industry. The company's wide range of additives, extenders and colorants enable you to produce virtually all kinds of plastic materials and compounds – regardless of whether they are going to be made into PET bottles, packaging, thermoset products or even plastic parts for the electronics industry. Our range of additives are tuned to perfectly complement each other and satisfy the needs of the chemical industry and your individual production process.

A for acrylate block copolymers and Z for zinc oxide: the company's portfolio covers everything from A to Z. Our warehouses hold a vast selection of additives, polymers, DEHCH, oils, waxes, colorants, chlorinated paraffins, resins, fillers, solvents, polyglycols, emulsifiers, surfactants and bulking agents. We make use of our decades of experience and expertise to help our customers select the right product for their application.

TER Chemicals doesn't compromises when it comes to quality. The companies supplying our raw materials, fillers and additives are all synonymous with exceptional product quality and quick, reliable delivery. We also ensure strict compliance with all relevant standards and statutory requirements.

TER Chemicals strives to cultivate long-term partnerships across the globe. This ensures quality and trust. Many of our suppliers and customers alike have been working with us for decades. However, as the chemical industry is constantly developing new and better products, TER Chemicals is always on the lookout for new, innovative products and partnerships. We will be more than delighted to expand our network by including partners that can help drive our company and customers forward, particularly those that share our values: quality, reliability and innovation.
Offering swift delivery is a standard that must be met. This is because perfectly coordinated logistics is essential for ensuring efficient industrial production of everything from plastics to adhesives to other chemical products. TER Chemicals offers the following:

strategically and conveniently located warehouses
flexible delivery processes and options
consistent high quality throughout the entire supply chain
a global network

Our global network sets us apart from other companies. It ensures our product line has great width and depth and allows for continuous production innovations. TER Chemicals is therefore able to cater to any specific needs you may have regarding product delivery.